Latest News
Do You Hear What I Hear? A Holiday Benefit for the Benjamin House
Details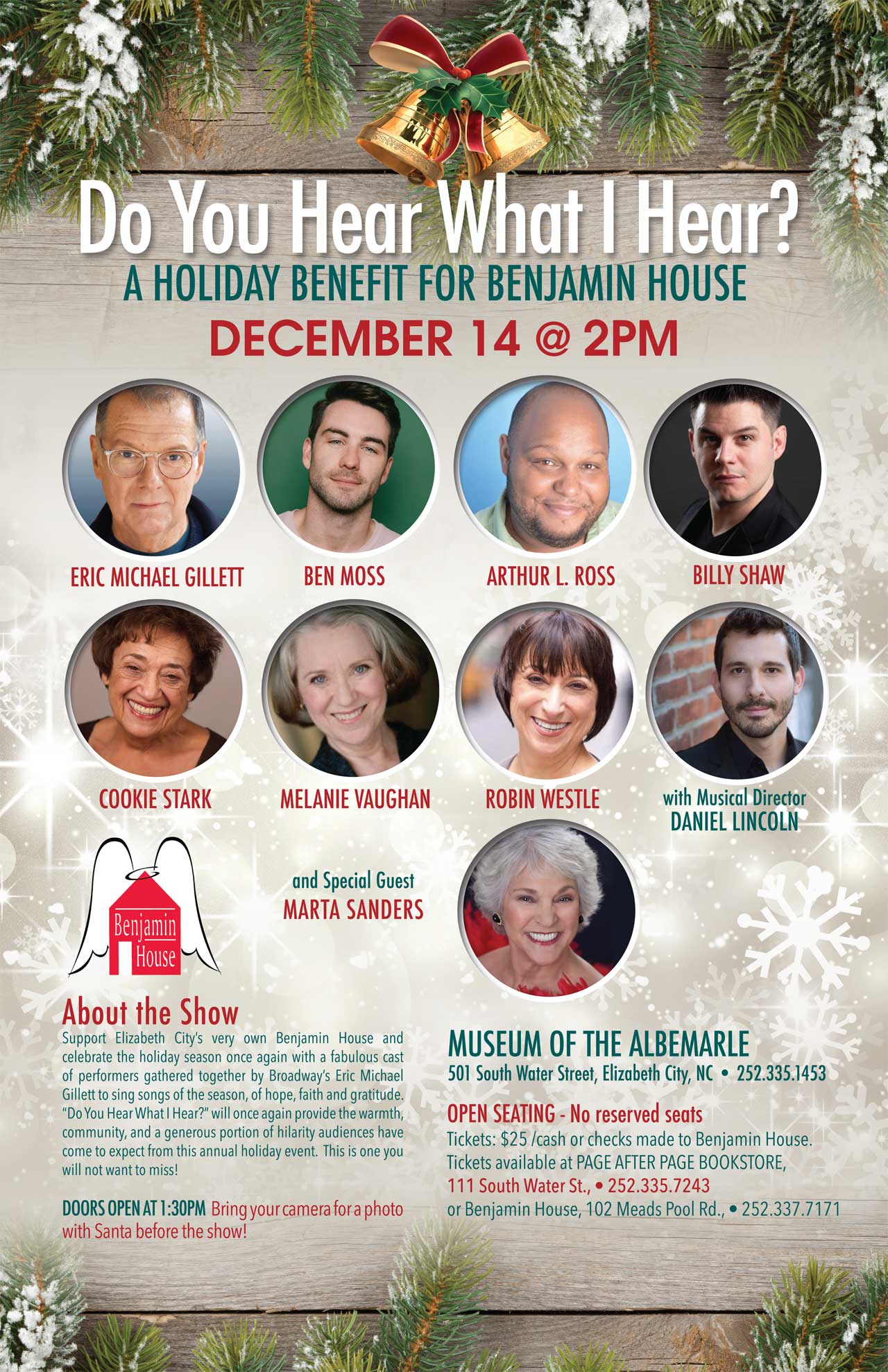 Support Elizabeth City's very own Benjamin House and celebrate the holiday season with a fabulous cast of performers gathered together by Broadway's Eric Michael Gillett to sing songs of the season, of hope, faith and gratitude. "Do You Hear What I Hear?" will once again provide the warmth, community and a generous portion of hilarity audiences have come to expect from this annual holiday event. This is one you will not want to miss!
Tickets available at Page After Page Bookstore, Benjamin House or by calling 252-340-4541 and tickets also available online! Click here to purchase tickets online.
Read more about the show by visiting The Daily Advance.
2019 Halloween Fun!
Details
Uniquely creative Benjamin House staff, Trina Coefield Singletary, planned and perfectly presented an evening of Halloween fun partying for our residents last night.🎃 A huge and heartfelt thanks goes to this very talented staff, who always uses her wonderful gift of detail, whether it's working with the residents, making props for the stage for our annual Benjamin House Talent Shows or designing the most exciting theme parties for our precious residents‼️ Look at these pics to see our residents, some board members, and some of our staff in costume.🎃♥️
The Benjamin House Goes Country
Details
There are silhouettes of cowboys, songs about hoedowns and even a tractor onstage as "The Benjamin House Goes Country." Residents and staff members are excited about presenting their 12th Annual Benjamin House Talent Show on Saturday, July 27 at 2 p.m. at the Museum of the Albemarle. Find out more at the Daily Advance website.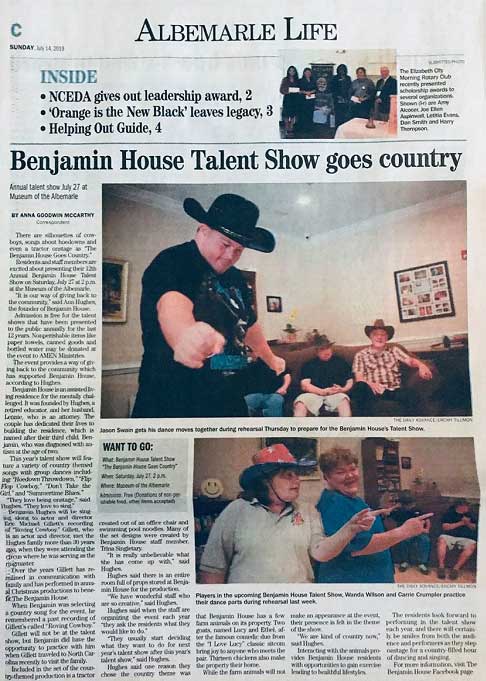 From Eric Michael Gillett
Details
Well, it's officially the Christmas season for all of us heading to Benjamin House in Elizabeth City NC in a few days. Melanie Vaughan Kimberly R. Harris Arthur Ross Lauren Stanford Billy Shaw Will Shuler Robin Dicker Westle and I will be rehearsing tonight, tomorrow and next Monday as we prepare to leave for our annual visit in support of all of our friends at Benjamin House and I, for one, cannot wait to get down to see everyone this season. Special shoutout to one of our former music directors for the BHBenefit, Mike Pettry, whose picture is on the front page of the Albemarle Life section of today's Daily Advocate. And we couldn't to any of it without Lennie and Ann Parke Hughes, as well as our generous sponsors: Al Wordsworth, Laurel & Don Senick, Fidelity National Title Co., Lee & Marion Gutman, Lyn Castellani, Lynn & Curtis Hinkley, Select Bank & Trust, Towne Bank & Trust. Their generosity is what this season of giving is all about! To all of our friends in Elizabeth City, I can't wait to bring this amazing cast of performers to town, especially our newest cast member, Billy Shaw. You'll love seeing your friends from years past singing new songs and telling stories, and you're going to make a grand new friend in Billy.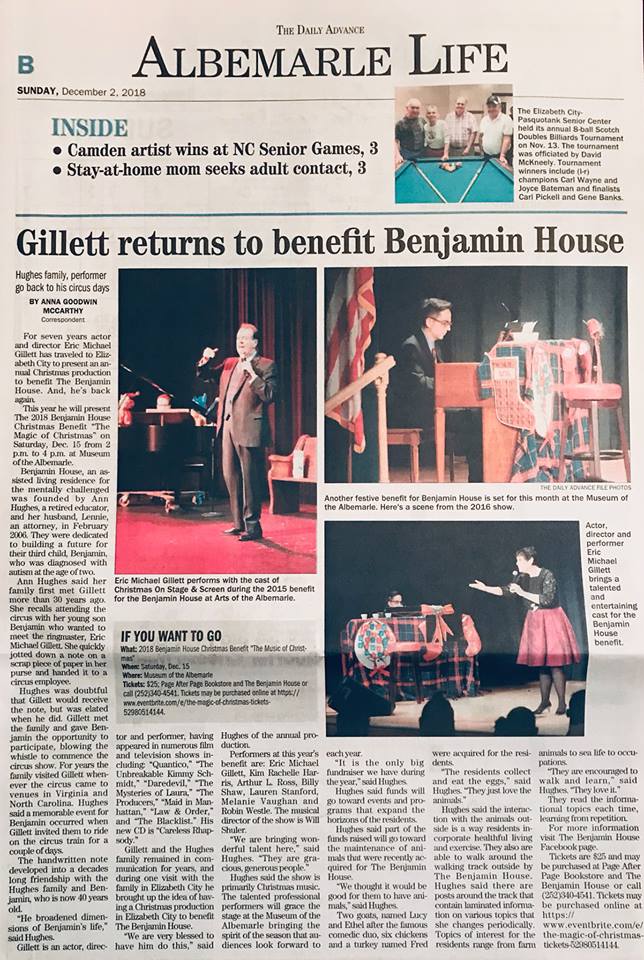 3nd Annual Benjamin House Charity Golf Tournament
Details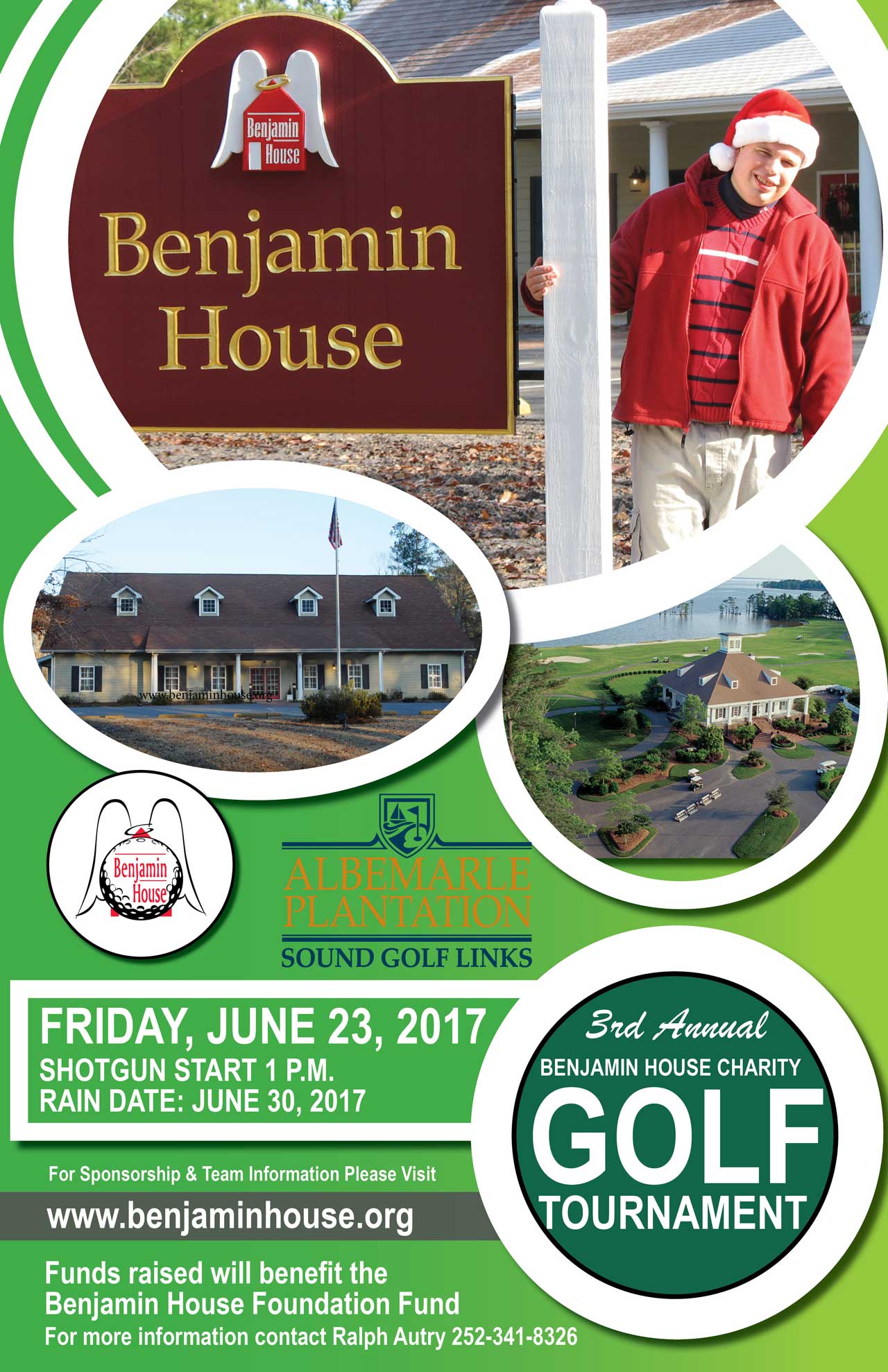 Date: Friday, June 23rd 2017
Shotgun Start: 1PM
Rain Date: July 30th, 2017
You can download our sponsor and team forms from the link below. Funds raised will benefit the Benjamin House Foundation fund. For more information contact Ralph Autry at 252-341-8326.
Walking Trail Photos
Details
Staff Wanda Wilson took some great pics along our new walking track at Benjamin House! Thank you, Wanda K Jones Wilson! The new walking track truly is awesome, and the residents are enjoying it so much! A continued BIG Thanks to Lennie Hughes, Jr. for the idea of the track, and for taking care of getting it done!!
Thank You Elizabeth City Elks!
Details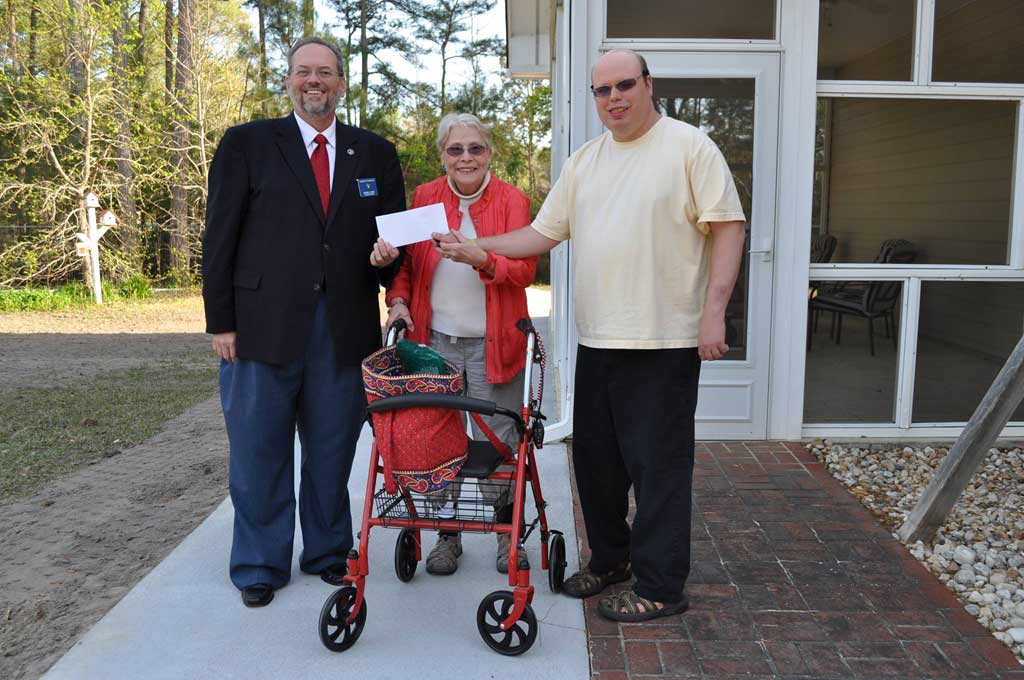 The Elizabeth City Elks have been such a valuable supporter of Benjamin House throughout the past 10 years! Recently they blessed us with a gift to help with the new walking track at Benjamin House! Love those Elizabeth City Elks!!
Donations Can Now Be Accepted Online
Details
Benjamin House can now accept donations online. Thank you everyone for your support.
Shop Amazon Smile & Support Benjamin House
Details

You can now support Benjamin House by shopping at Amazon through Amazon Smile. You get the same products and same prices and Amazon will donate 0.5% of your purchases to support the Benjamin House. We thank you for your support!
Resident Rooms Available
Details
Benjamin House now has 2 residents' rooms available for self pay. Contact Lennie Hughes at 252-335-5471 or 252-207-5777.